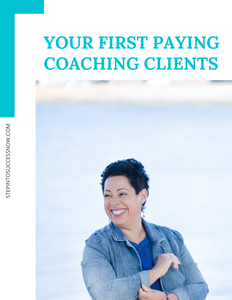 How To Sign Your First Paying Clients - Digital Program
Introducing "Your First Paying Clients": Your Roadmap to Thriving as a Coach
Unleash Your Coaching Journey!  Dive into our exclusive Black Friday
​Cyber Monday

 deal and kickstart your coaching business.  Don't miss out on this limited-time offer!  #CoachingSuccess #BlackFridayDeal


Do you dream of becoming a successful coach, helping others achieve their goals, and living your passion? If you're just starting out on this exciting journey, or if you're contemplating a career in coaching, we've got your back. Our program, "Your First Paying Clients," is designed to guide you through the crucial steps to kickstart your coaching career and take it to new heights.

🚀 Key Highlights 🚀

🌟 No Need for a Website: You might be wondering, "Do I need a website?" We're here to tell you that in the beginning, your website isn't your top priority. You'll learn that what truly matters is building your coaching skills and attracting your first paying clients.

📢 The Perfect Business Name: Naming your business is important, but it's not your starting point. Our program will help you decide on the perfect business name once you've gained experience and a deep understanding of your niche.

💰 Pricing Guidance: One of the most common questions among new coaches is, "How much should I charge?" We'll provide you with invaluable insights and strategies to consider when setting prices that reflect your value and resonate with your clients.

🔍 Finding Your Clients: "Where do I find clients?" We've got you covered! You'll discover effective methods and channels to connect with your target audience and start building your client base.

🗓 Coaching Call Success: Wondering what to do on your first coaching call? We'll equip you with the skills and techniques to make those initial sessions memorable and impactful.

📆 Planning for Success: Our program offers a clear roadmap for what to do today, tomorrow, and the next day to get you started with your first few clients. You'll gain the confidence and direction to move forward on your coaching journey.

👩‍💼 Your Coach's Guide: We understand the excitement and overwhelm new coaches often experience. That's why we're here to guide you through the essential steps for growth.

🎯 The Importance of Paying Clients: We know that the difference between being a "baby" coach and a thriving coach is having paying clients. It's the line in the sand that all coaches need to cross. We'll show you why securing your first paying client is a game-changer.

🌠 Overcoming Hurdles: New coaches often feel enthusiastic until it's time to create paying clients. We'll help you tackle this hurdle head-on and ensure you're fully prepared for this important step in your coaching journey.

Embark on your coaching adventure with confidence, and let "Your First Paying Clients" be your trusted companion along the way. With our program, you'll gain the skills, knowledge, and ability to attract and serve paying clients, setting you on the path to becoming a thriving coach. We're here to support you every step of the way. Start your journey to success now!

What you'll get:
A simple easy to implement path to signing your first paying coaching clients without having to build a website
How to design your very first pilot coaching package specifically created for the kind of clients you would love to work with 24/7. Without the worry that they might not want it. 
Learn how to sign your first coaching clients without having to be everywhere and overwhelmed on social media. 
10 audios with step-by-step instructions.
Bonus:
Learn common sticking points new coaches experience and how to manage them
Avoid wasting time, energy, and money on a fancy website that no one sees.
Comes with a BONUS 34-page guidebook that you can print and use starting from day one!
When you complete your purchase you will get a PDF document with links to the Guide Book and Private Audio Playlist on YouTube. 
As this is a digital product, there are no refunds.
This product is NOT for commercial use. Sharing and reselling this product is strictly prohibited. They are designed to use for your personal use, in your business with your clients, but not as your business
---