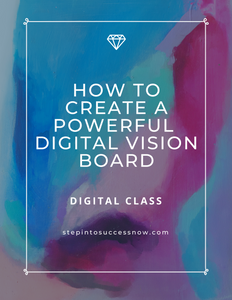 Create A Powerful Digital Vision Board
How To Create A Powerful Digital Vision Board
Digital Replay of Workshop

HARNESS YOUR DESIRE & FINE TUNE YOUR DREAMS TO MAKE THIS YOUR BEST YEAR YET
Including an action-packed 2-hour recorded presentation, downloadable PDF Workbook + Printables 
Inside this fun, informative, and practical 2-hour workshop, I'll walk you through
#1 - The Secret to Choosing Your Best Vision Board Topic
Together we'll quickly and easily get a bird's eye view of your life, so you'll know what you want. You'll get in touch with how you most want to experience life and precisely what you can do to become even more fulfilled.
#2 - The Exact Steps I Use
I'll walk you through the 5 must-do stages to creating a powerful vision board. Desire, dream, decide, do and deliver
#3 - How to Decide on the Perfect Type of Vision Board 
You'll learn about many types of vision boards and where they work best, so you'll be able to choose the perfect vision board for your needs (one for the year or for a particular goal, business or personal, team board) 
#4 - My Little-Known Secret 
My little-known secret to taking your vision board from dreaming to reality. This short and sweet daily practice will keep you motivated and give you the momentum you need to achieve your goals. 
#5 - The Easy Roadmap (aka The Happy Path)
To follow to create a digital vision board. I'm including all my tips and tricks and the easy tech you need. 
#6 - The Game-Changing Formula
To create the life you want. Most people live their lives backward, but not you anymore. With this game-changing formula, life will be easier, more fun, and more abundant.  
You + Me + Internet connection + 2 fun and informative hours = Everything you need to create a powerful and exciting digital vision board 
Yep, even if you're not sure what you want. I'll help you figure it out.
Even if you've struggled to reach your goals and dreams in the past. You're not alone, I've been there before too! And I'm here to help you.
And especially if you're nervous about the tech! Don't worry, I've got your back. We're going through it step by micro-step. 
***Plus you'll have the replay of 5 Facebook Live videos to pause rewind and look at over and over as you need***
You'll walk away from this training feeling…
 "I can do this" you're ready to roll up your sleeves and create your first (or your next) digital vision board. 
"I'm ready to play bigger" in all aspects of your life
Completely confident and empowered that you know how to reach any goal you set your mind to.
Committed to yourself. You're ready to invest time and energy in YOU.  
Relaxed and ready. You'll have all the tools, tips, and tricks and even know precisely where to start and how to get it done.
Price is in US funds and exclusive of taxes. As this is a digital product there are no refunds.
Simply click the "Add to Cart" button above and let's get started! 
 This product is NOT for commercial use. Sharing and reselling this product is strictly prohibited. They are designed to use for your personal use, in your business with your clients, but not as your business
---